In February I co-hosted a bridal shower for a very good friend and co-worker (hi Liz!). Yesterday was her wedding day (!!!), so I thought it would be fun to share 3 of the easy projects I created as part of her shower decor. Her wedding colors were blush pink with gold accents and since I love those colors together so much, we stuck with the same theme for the shower.
As I have mentioned before, I am the lucky owner of a Silhouette Cameo paper cutting machine, so I used it for all of these crafts, but they are also easy enough that you could create them without a machine.
1. Monogrammed vase embellishments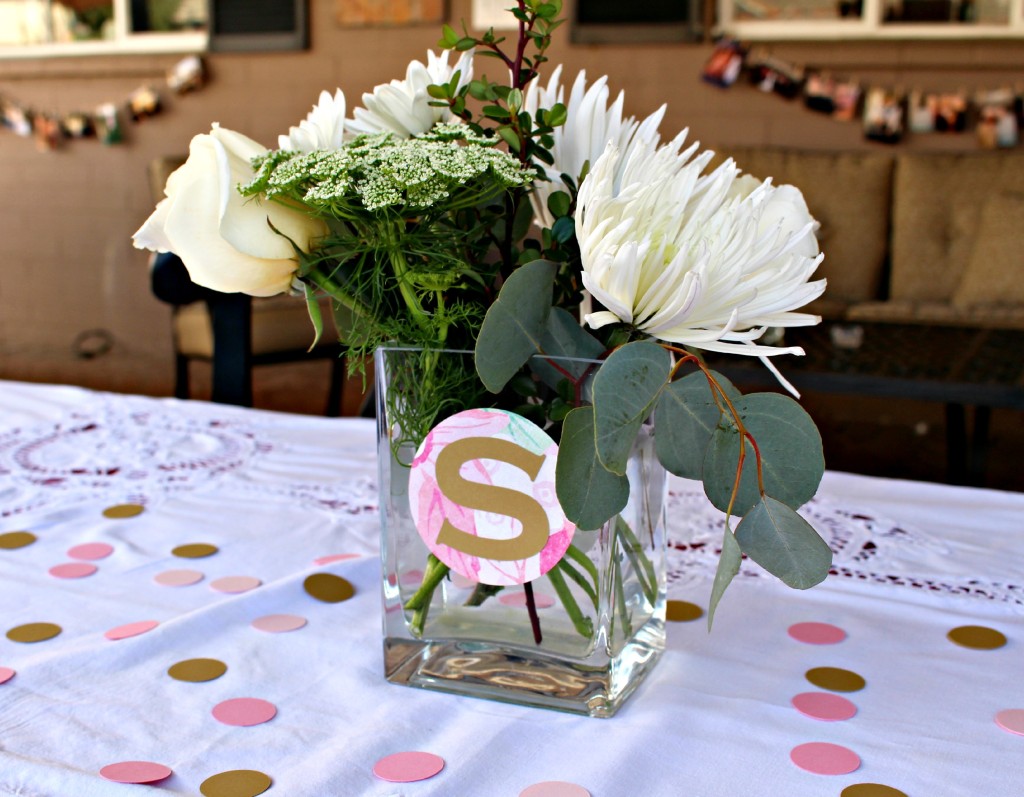 I purchased a bunch of the floral paper at Michael's that the circles are cut from. I loved the paper because it was a mix of pinks and had a really pretty teal green leaf color that popped, so it was the inspiration for all of the crafts.
I started by cutting a bunch of 3.5 inch circles. The "S" is the first inital of Liz's new last name and was cut from gold metallic paper. I used rubber cement to glue the "S" to the floral circle and then a couple of strips of double sided table to adhere the monogram to the vase (vases are cheapies from Ikea). I actually placed the monograms on the vases the morning after we did all of the flower arranging and they stayed on great.
Had I not had a Silhouette Cameo, I would have made all of the shapes I wanted in a Word document, printed them, traced them on my desired papers and then cut them out. We had a total of 6 vases and I placed a monogram on each "face" of the vases, for a total of 12 monograms. For future parties I plan to use this same idea on party favor bags!