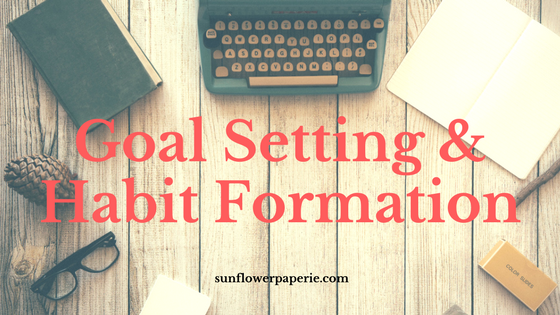 Happy New Year, everyone! In my last post I mentioned that I completed a Whole30 last August/September, so in the spirit of the new year and 2017 goal setting, I want to share a bit about my Whole30 experience and what it taught me about goals and habit formation. When reading about the Whole30 many people describe the program as "life changing". As a seasoned dieter who has probably failed more often than I have succeeded with eating changes, I was somewhat skeptical. However, with buy-in from my boyfriend we decided to give this program a try.
You can read all of the program details on the Whole30 site (which I would encourage), so please know that the takeaways I am going to describe are my own personal "lessons learned."
Lesson 1: Preparation is key to both short and long term success.
In regards to Whole30, this translated to meal prepping being a time, money, and diet saver! I feel like the phrase"meal prepping" has been buzzing around the internet for years. When I think of meal prepping I picture a long day of cooking on Sunday, with a resulting full fridge neatly divided with pre-portioned meals. For a long time this concept seemed overwhelming and time consuming to me, so I never tried it. When we started Whole30, it became obvious meal prepping was the first step to success.
My boyfriend and I approach meal prepping with a twist. Basically we plan what we are going to have for dinner Sunday and Monday nights and then make enough protein those evenings to get us through the rest of the week. I buy salad fixings for my lunch (adding aforementioned protein) and then throughout the week I make fresh sides to go with our leftover protein for dinner. I still can't believe how satisfying it is to open the fridge and have several meal options ready to throw together. All. Week. Long.
How does meal prepping relate to setting goals and forming habits you might ask? In short, preparation is the key to success. What area of your life do you feel out of control of? Maybe a process that takes more time than it should or leads to additional stress. Or perhaps a task that takes so much time and thought that you put it off and end up selecting the quick (and perhaps more expensive option)? With that task in mind, what can you do ahead of time to make the task less daunting? 
On November 1, 2016 I set the goal of walking 10,000 steps and climbing 10 flights of stairs daily until the end of the year. This may not sound like a lot, but as an office dweller there were days I was lucky to break 5,000 steps! I knew going through the holidays and into the new year I wanted to commit to being more active during the day.
The steps (no pun intended! ha!) I put into place to make this happen: 1) I asked my Mom to join me in this challenge. We decided to text each other daily when we hit our goal. 2) I placed time on my calendar daily to get away from my desk and walk – 1 slot in the morning and 1 slot in the afternoon.
Once you have identified the steps you can take ahead of time to be prepared, make a commitment to complete these proactive steps for a specific duration of time. In my walking example, this duration was about 60 days (November 1 – December 31). Habit formation research is all over the place ranging from 21 days to 60 days, so pick a time period that works for you.
In the spirit of transparency, there were days I didn't hit my goal. BUT what was eye opening to me was how focused I was on hitting my goal the next day. Having a friend working towards the same goal was especially helpful because we encouraged one another and my Mom is quite the walker so I knew I didn't want to let her down. We have continued this goal into the New Year and I haven't missed a single day. My walking and stair climbing goal now feels like an embedded part of my day and a habit I feel really great about. 
This post has gotten longish, so I will follow-up later with Whole30 lessons #2 and #3. But before I leave you, a bit of encouragement… I was writing this thinking about how some might think it is silly to post a News Years resolution themed post on the 8th of February, but I am here to tell you the date on the calendar doesn't make one bit of difference in your goal setting / habit forming process! Perhaps you made a resolution that  you have already stopped pursuing (who cares?!). Or maybe you have had your goals floating around your head, but haven't written down the steps you need to take to accomplish them (you can do it now!). I am here to encourage you to take a minute to write down what you want to focus on in the next 30 or 60 days and to start start doing it. The sooner you start, the sooner you will have that awesome sense of accomplishment! Have a great week, friends!