This post contains Amazon affiliate links, which means that if you click on a product link and purchase the item, I'll receive a small payment.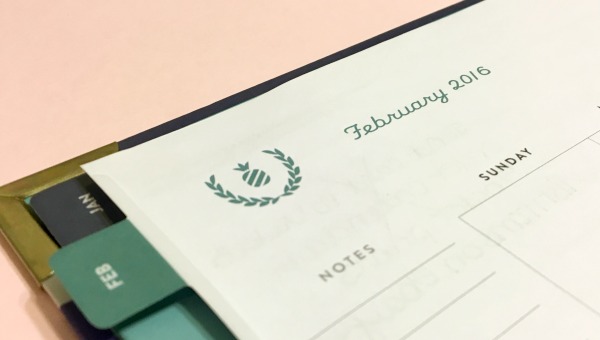 Hello! Happy 2016 (yes, I fully realize it is February, make that March, not January 1!)! 🙂 I hope your year is off to a wonderful start. As you might have guessed by my absence from the blog, 2016 is already going quickly!
I have spent the first part of this year thinking about and focusing on what I want to achieve in 2016. Last year, I had a somewhat complex list of goals, that I reviewed quarterly and tried to post about as I met milestones along the way. While I liked this structure in theory, it proved to be difficult to keep up with. When I posted my end of year recap, I realized there were goals I had identified in January, that I had completely forgotten about by December ("Learn How to Sew Paper" – I am looking at you!).
Last December, my friend Jennifer Kennedy recommended I read The 12 Week Year: Get More Done in 12 Weeks than Others Do in 12 Months by Brian Moran and Michael Lennington. I would recommend this book to anyone who likes to set goals, but doesn't ever quite achieve them all. One of the main concepts of the book is that we should start viewing a year as only 12 weeks. By shortening the amount of time we have to achieve a "yearly" goal, every day, every hour and every minute counts more. This also allows us to adjust goals more quickly than waiting until November and realizing we still have a long way to go and subsequently getting bummed and not working towards the goal any longer. This 12 week concept really resonated with me, since I have previously liked setting quarterly goals!
Another concept I really liked is the idea of having fewer goals during this "yearly" period and have 4 or 5 actions identified that will help you achieve this goal, daily and weekly. There is a lot of information about tracking these action steps and grading yourself, with the theory being that if you achieve the majority of your action items each day / week, you will achieve your goals by the end of the 12 week "year." You can see how if each traditional year is made up for four 12 week years, you can really accomplish a lot! I don't want to share too much, because I truly think goal setters should read this book! 🙂
All of that being said, I have 2 major goals for my first 12 week year which ends March 27.
Lose X number of pounds (yes, I know the scale shouldn't matter, but at this point it does).
Re-launch the Sunflower Paperie shop with a set of "core" product offerings.
I have smaller action items that I am tracking each week and will post an update about my progress with these goals after March 27. I also plan to share my goals for the 2nd 12 week year!
How is 2016 going for you so far?! Any goals that need re-evaluating? Any progress towards goals you set for this year? I would love to hear what you are working towards in the comments!