Instagram is my favorite social media platform, so I am excited to announce that I am hosting a "photo-a-day" Instagram challenge for the month of July! I decided to host this challenge for a couple of reasons… First, I love Instagram and while I am great at checking it everyday, I post photos inconsistently. Hopefully this activity will help me post more regularly. Second, I want a new way to keep in touch with blog readers and friends. Who knows, I might even meet some new people this way!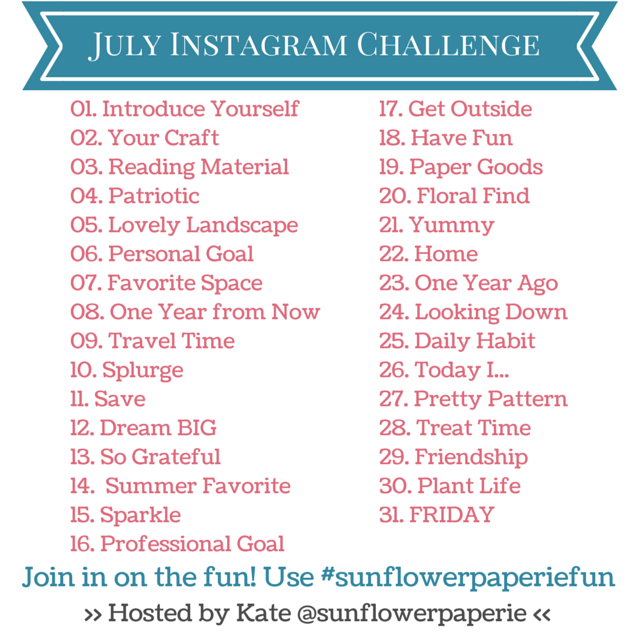 What is a photo-a-day challenge, you ask? Anyone who decides to participate will post a daily photo inspired by the word or phrase prompt for the day (see image above). Make sure to use the hashtag #sunflowerpaperiefun in your caption. It's that simple!
Other ways to participate… 
– Check the #sunflowerpaperiefun hashtag on Instagram to see who else is posting. You might find a new favorite account to follow!
– Comment on photos with the #sunflowerpaperiefun hashtag. Everyone loves meeting new people on Instagram!
– Save the above image to your phone or print it out and keep it handy, so that you have a reminder to post everyday.
If you plan to participate, please leave your Instagram user name in the comments, so I can follow you! You can follow me @sunflowerpaperie. You can also re-post the image easily from my Instagram account (using the Repost app.), so that you have easy access to the prompts. I can't wait to see everyone's photos! 
P.S. If you miss a day (or three!) no worries, just post when you can! 🙂