As promised, here is the third (and final) installment of my CreativeLive Review! Click here to read Part 1 and Part 2.
A couple of weeks before April's courses were slated to start (and a couple of weeks after I applied to attend), I was contacted by Melissa at CreativeLive to see if I was still interested in being part of the studio audience – I couldn't believe it! My heart was racing and I was SO excited as I read her e-mail! After some preliminary research on hotels and travel options, I confirmed my participation.
I flew from Arizona to San Francisco on Sunday, the day before the first class started. I was thankful I arrived early, because I was able to check out the CreativeLive studio location and attend a "meet and greet" April hosted for all of the audience attendees Sunday evening. For some reason, I was really nervous, but meeting the other participants helped ease my nerves, because several of them had already attended a CreativeLive course.
Monday I reported to the CreativeLive studio at 8:00 a.m. (filming started at 9:00 a.m.). The studio where the courses are filmed is modern and fresh and everyone we worked with was super nice and helpful. All of our meals were provided and they were delicious! After we ate breakfast, several of the audience members got "mic-ed up" and we headed into the studio.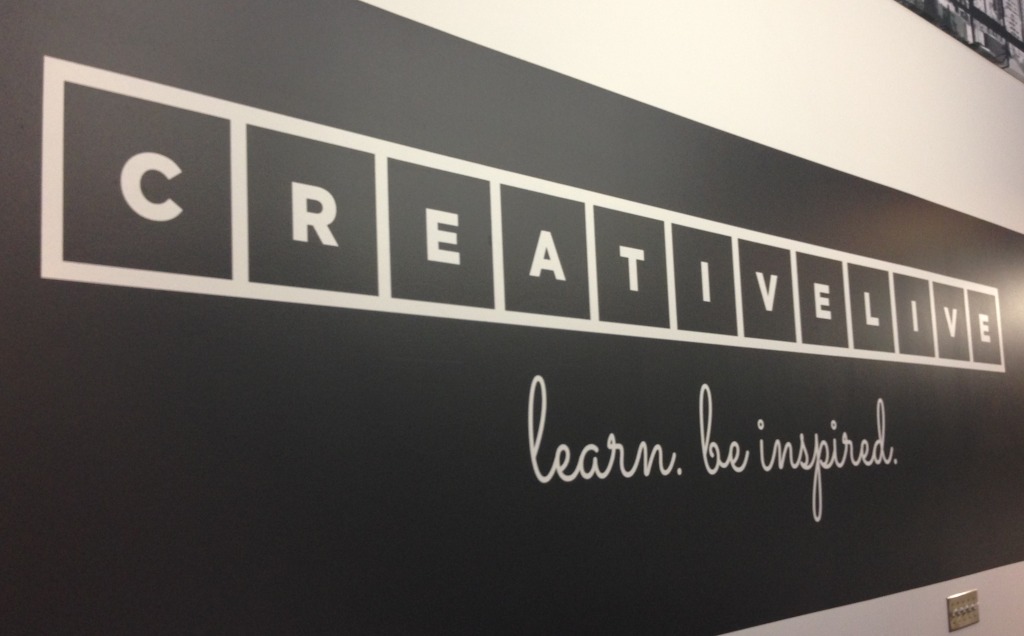 The first course, "Create Digital Products that Sell Why You Sleep," was filmed over two days (Monday and Tuesday) and included a total of 23 segments. While we were filming, the day was broken into 90 minute section of filming. Each segment, our host Chris, would introduce the course, encourage people to purchase the course and participate in the online chat rooms and then he would turn it over to April. April would then present the material, answer our questions and move through the course material. April also designed a beautiful workbook to correspond with the course. The segments were longer and went into each topic at length. One of my favorite parts of the course was the afternoon April spent showing us some of the tricks she uses in the Adobe Creative Suite.
The second course, "Make Your Creative Business Uniquely Irresistible,"  was filmed on the final day (Wednesday). It was different than the first course, in that it is designed to be watched in smaller segments. There are 21 total segments and students can opt to watch 1 a day or 1 a week and move through the prompts and activities. This course seemed to move super quick and was PACKED with information!
Attending the courses in person was AMAZING! Everyone at CreativeLive was so nice and I loved getting to see April both during and after filming. The audience members represented a wide variety of creative business owners, which was beneficial because it helped me "think outside of the box" regarding digital products. April is seriously an amazing teacher! I can't even begin to imagine how much time she put into developing the course material. I am grateful that she is so willing to share her knowledge about and passion for creative business owners! 
Whew – that was a long (series) of reviews! Thanks for sticking with me! As I referenced in my CreativeLive – Part 2 post, I plan to expand on some of the topics that resonated most with me from April's courses over the course of the year, so stay tuned! I am so thankful I attended these courses in November, because they helped boost my motivation and focus on the upcoming year!